STI check
for gay & bisexual men *

Fit and healthy? You pay attention to your body and your health?
If you are gay, bi or queer, and have sex with alternating partners, you should also have a regular check up for sexually transmitted infections (STI).
We offer exclusively, for gay and bisexual men*, a free anonymous and confidential risk analysis and a medical examination for all important sexually transmitted infections: HIV & syphilis (by blood tests), chlamydia and gonorrhea (by swab of the mouth, urethra and anus) as well as a visual examination of the genital area for warts. The results are available after approx. 5-7 working days.
Costs: free of charge
Important: An STI-Check can provide you with secure information about your HIV & STI status only 6 weeks after a risk contact.
Dates: Every 4th Thursday of the month, 6 pm – 8 pm
Hannoversche AIDS-Hilfe e.V., Lange Laube 14 (Entrance Stiftstraße, 2nd floor), 30159 Hannover, U-Steintor
Appointment and counselling: 05 11/19 411 (Mon 10 a.m. -12 a.m., Tues & Wed 10 a.m. – 4 p.m., Thu 12 a.m. – 4p.m.)In cooperation with AIDS- & STI-Beratungsstelle im Fachbereich Gesundheit der Region Hannover
and with friendly support of MSD SHARP & DOHME GmbH
Included in the campaign SVeN kommt – SVeN testet
Counselling & appointments:

Phone: +49 511 19411
Monday 10 a.m. – 12 a.m.
Tuesday 10 a.m. – 4 p.m.
Wednesday 10 a.m. – 4 p.m.
Thusdays 12 a.m. – 4 p.m.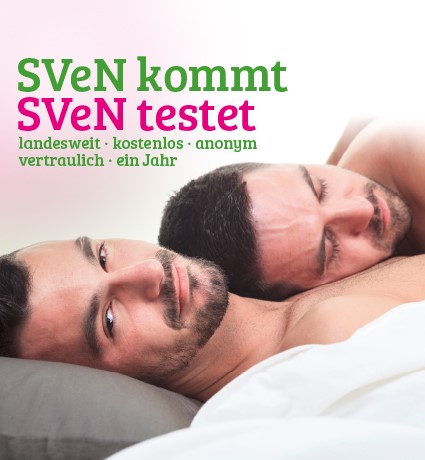 Projektleitung
Jürgen Maaß
Telefon: 0511 / 360 696 16
*******************************
Ärztliche Leitung

Fr. Dr. Marlene Graf
Fachbereich Gesundheit der Region Hannover