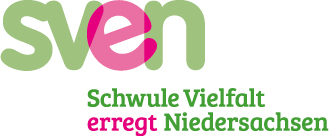 Team Hannover
SVeN is active!
Our SVeN team is always on the road and in Hannover's gay scene to lighten up the evenings with fun activities and to educate on HIV/AIDS and other sexually transmitted infections (STI).
SVeN satisfies you!
Whether you need information on how to protect yourself from STIs, or would like to know more on various testing locations in the region, or just need some tips on gay life with or without HIV:  SVeN answers all your questions, so you can protect yourself and your (sex) partner(s) effectively.
SVeN wants you!
Want to join us? Are you dedicated, outgoing and curious? We are always looking for gay men to strengthen our team. Call us or send us a message!
Contact
Jürgen Maaß
Telephone: 0511 / 360 696 16
Manuel Drobeck
Telephone: 0511 / 360 696 15
hannover@svenkommt.de